Richard Lochhead MSP
Member of the Scottish Parliament for Moray

About Richard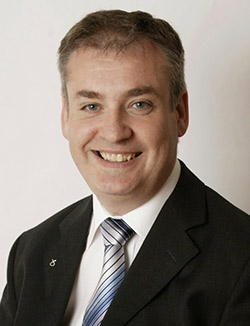 Richard has represented the Moray Constituency as a Scottish National Party (SNP) MSP in The Scottish Parliament since 2006.
Richard attended Williamwood High School in Clarkston and Central College of Commerce in Glasgow before graduating in Politics from the University of Stirling. Before entering Parliament Richard worked as Office Manager for Alex Salmond MP, before becoming an economic development officer for Dundee City Council.
In 1999 Richard was elected to the Scottish Parliament as a North East MSP, and re-elected in 2003. Following the sad death of Margaret Ewing MSP he stood down from his regional seat to fight and win the Moray constituency by-election in April 2006.This was the first time since the second world war that an incumbent party had retained a by-election seat without losing votes or having their majority or share of the vote lowered.

Richard has subsequently been re-elected as Moray's MSP in the 2007, 2011 and 2016 Scottish Parliament elections. In September 2018 he was appointed Minister for Further Education, Higher Education and Science. He previously served as Cabinet Secretary for Rural Affairs, Food and the Environment between 2007 and 2016.
Richard is married to Fiona and lives in Elgin with their two sons and in his spare time enjoys reading history and fiction, cycling, cinema and holidaying around Scotland when time allows.